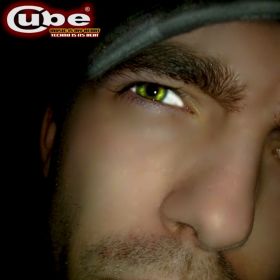 About Cube
Cube is a young Czech DJ and producer, born in Most, Czech Republic in 1985. He was touched by the music production in the early age of 14. The quality of his production intensely increased since then, which proved a couple trance EP's at that time released by Bonzai/Banshee – Total Digital Records.

He sticked to this genre until the end of 2007, when he felt a need for a change. He hasn't gave u ... read more
About Cube
Cube is a young Czech DJ and producer, born in Most, Czech Republic in 1985. He was touched by the music production in the early age of 14. The quality of his production intensely increased since then, which proved a couple trance EP's at that time released by Bonzai/Banshee – Total Digital Records.

He sticked to this genre until the end of 2007, when he felt a need for a change. He hasn't gave up on melodies completely, but started to harden his style as well as his sets. He was attracted by harder and more progressive motives of techno, which would give his production the right and original touch. Currently, he identifies his producton, without categorizing, as techno, though it combines more styles such as progressive, minimal, and techno. Most important is, that this music, whether it's his production or in his sets, creates original, energic, and uncompromising impression.

Cube started Djing in 2001, initially using turntables and Final Scratch technology, which helped Cube to revive his sets using loops and his own compositions, while maintaining the classic feel of playing vinyl. Nowadays, his performance could be called as LIVE PA act, using Ableton Live technology, enabling mixing many loops, reworks, and own tracks together and intensifying the impression of his set by effects of a midicotroller. Many clubs were enriched by his sets not only in north-east part of Bohemia, Prague, Brno, Slovakia, but also in Germany and Belgium. Recently, you were able to see him behind the decks only with his partner – CZScream. Thanks to two by four deck mixing they both support them selves perfectly, and they're very able to fill the dancefloor with their bouncy rythmical techno in seconds.

Cube's fixed goal is to conquer Czech techno scene with a help of his own production. But in the near future he is fixed on finishing his own album, from which he wants to hear some of the top DJs playing his tracks.
Cube has no Merchandise yet.