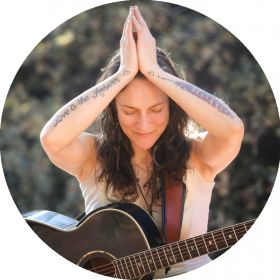 Rachel Mari Kimber
United States, Arizona, Tempe

About Rachel Mari Kimber
Rachel Mari Kimber is a talented award winning singer songwriter who writes songs about her own experiences from the heart. Originally from Wales, UK, you can hear her Celtic roots in her unique style. She is a voice and guitar master, and also plays cello in a soulful fashion, it is apparent that she loves her instruments and the sounds she can make with them. Also a mother, healer, chef and chocolatier, she leads a healthy colourful varied lifestyle.

Rachel has an acoustic album 'A Drop In The Ocean' and a band album 'Life Changes Everything Changes' and some extra singles available, with more in the pipeline coming up soon. She released various singles on all major music platforms through 2021, while she diligently works towards recording a new album for release 2023.

Currently residing in Tempe, AZ. she does gigs around Arizona, creating soundscapes with a loop pedal. Songkick has her latest gig dates.
She also played 'cello for Neo Pagan Celtic Folk Rock band 'Black Forest Society', and recorded with them in 2022 for their album 'Seasons' so check them out for extra sauce, as she also sings etherial style vocals over classically trained steel string acoustic guitarist William Schwabs' song writing skills, alongside Daniel Whipples intricate cajon percussion playing.

You can find her full catalogue on you tube, under her full name, and she also has a separate 'live' channel there where you can find previews of some of her more recent compositions. Please join her there, like, comment, share and subscribe!
Plays Today: 9
Total Plays: 24,530
Profile Views: 32,834
Subscribers: 634
Followers: 236
Rachel mari kimber has no Merchandise yet.
Rachel mari kimber has no Events yet.