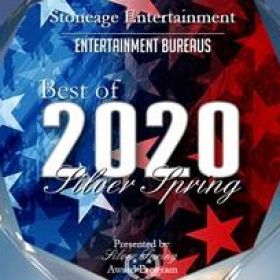 STONEAGE ENTERTAINMENT
United States, Michigan, Detroit
About STONEAGE ENTERTAINMENT
Bio
DAWAN is a native of Detroit, MI (Eastside). DAWAN is natural when it comes to singing. At the early age of 4 is when he began to sing, little did he or his family know they were witnessing the start of a talented young man with a singing career awaiting for him. His first love is truly performing and singing. When he was 5 years old he appeared in commercials sponsored by the "City for Youth, ... read more
Thomas Dennis Burns Sr.
Dawan is a natural when it comes to music altogether. His new hit releases will more than demonstrate his weaponry of skills and then the desires of his heart in every single lyric.
Leonard Washington
A star to the stars really finding it hard to believe you are this busy you cant answer the immediate information about the phenomenon without the association of music communicating his past accomplishments for him should you find yourself slipping
DAWAN
https://www.facebook.com/Dawanforever thanks for the support i appreciate it. I Also Have Tickets For My Concert March 29th 2019, you can get a live performace DVD if You Like, it will include some of the music that i am working on and some i have for sale on iTunes and amazon you are however able to get the free downloads at www.reverbnation.com/dawan4
About STONEAGE ENTERTAINMENT
Bio
DAWAN is a native of Detroit, MI (Eastside). DAWAN is natural when it comes to singing. At the early age of 4 is when he began to sing, little did he or his family know they were witnessing the start of a talented young man with a singing career awaiting for him. His first love is truly performing and singing. When he was 5 years old he appeared in commercials sponsored by the "City for Youth," an organization based in Detroit. During his teenage years he was featured in a Detroit Job Corps Center documentary, " Struggling Teens and Family Situations that Forced Teens to become Adults at an Early Age." DAWAN really began to be serious about his recording career during his teenage years where he started to collaborate with many local acts and National musical artists including MOET, Ready for the World (multi-platinum selling international R&B group), and Marcus Cole of Commissioned (platinum selling gospel group), and Marcus Johnson of the Marcus Johnson Project and Three Keys (a division of MaramelJ Entertainment) to name a few. It is in 1993 when he began to professionally record for the then MCA (Music Corporation of America) Records producers Keith (KDS) and Eric Scott. Throughout the years he has definitely gained the necessary experience to be a significant part of the music world we have today. He shot tremers through thousands of fans with his singing at the Circle City Classis Indianapolis a few years ago, a Coca-Cola sponsored event. The people that day witnessed a star in the making, and DAWAN will stop at nothing to rule R&B to the fullest. DAWAN is truly R&B's "Best Kept Secret." His weaponry of skills goes beyond expectations. Often, people mistakenly look at him as a rapper, and even though he can rap, his heart and fascination remains with R&B. His vocal skills are dazzling, exciting, spontaneous, and down right fantastic. Words alone can't express what this young man can do for the soul. The debut solo album for DAWAN under the direction of his record label Stoneage Entertainment has been named Freedom's Son And Is Available On Itunes And Amazon, so come back soon to find out Where You Can Check Out His Performances. The album is based on his past relationships and situations he's witnessed or experienced. His ability to sing, rap,as well as produce the music and write the songs are some of the traits that separate him from most other music professionals. He aims to please, and that's what puts his album above the rest. "His desire to ignite, excite, and entertain will turn your blue day into a happy day, these are some of the reasons why we chose to sign DAWAN. If you weren't blue to begin with, then he'll still make you smile anyway, as his music soothes the soul, shoots up your adrenaline, and enflames your spirit,and gets you in the mood. His debut album is Freedom's Son Available At iTunes, Amazon,(expired link) God Giv'in Dawan's Second Round Cd Is Also Available at The Same Online (expired link) in the near future Let It All Hang Out Will Hit You, But The Single Like Tai & China Is Available For Listening Soon On Itunes. DAWAN wants to know how you feel about his music, so please drop a line to DAWAN's e-mail address Dawanforever22@(expired link) stoneageonline@(expired link)
STONEAGE ENTERTAINMENT has no Merchandise yet.