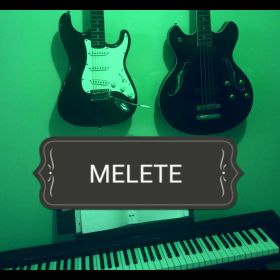 Melete
United States, Florida, JACKSONVILLE
About Melete
Melodic piano, driving bass, rock guitar, story driven lyrics, and powerful vocals with harmonies make up this progressive rock band. Currently a studio band due to a lack of players, Melete records in a home studio and mixes the music themselves. While the band members are easygoing and fun, they take their music very seriously putting forth all their effort to create something that they and othe ... read more
Michel
She is a massage therapist by day, and a pianist at night. She's never far from a set of keys and has a soft yet piercing soprano voice. Calm and insightful, she helps bring the sound in perfect harmony.
Nathan
A professional actor with a powerful tenor voice. He loves long walks on the beach and blowing people away with his finley tuned instrument. He takes every song in as a different scene and delivers a complex performance. Recently he has started to write songs himself as well.
About Melete
Melodic piano, driving bass, rock guitar, story driven lyrics, and powerful vocals with harmonies make up this progressive rock band. Currently a studio band due to a lack of players, Melete records in a home studio and mixes the music themselves. While the band members are easygoing and fun, they take their music very seriously putting forth all their effort to create something that they and others enjoy. The band was formed in Daytona Beach Florida in 2016 and hopes to release their first completed album in 2018. They have nearly completed 2 albums and will continue to write and record no matter what as it's something they just love to do.
Melete has no Merchandise yet.
Melete has no Events yet.