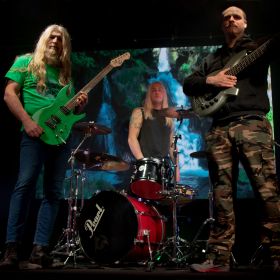 About CELTIC HILLS

The band CELTIC HILLS was born in 2010. with the release of the first CD of "Horns Helmet Fighters".
The idea of forming a band with the name Celtic Hills, is of the guitarist and singer Jonathan Vanderbilt, who becomes the leader of the group, writing all the songs.
The name derives from the English translation of "Collio Friulano". Territory once inhabited by the Celtic people
The musical g ... read more
About CELTIC HILLS

The band CELTIC HILLS was born in 2010. with the release of the first CD of "Horns Helmet Fighters".
The idea of forming a band with the name Celtic Hills, is of the guitarist and singer Jonathan Vanderbilt, who becomes the leader of the group, writing all the songs.
The name derives from the English translation of "Collio Friulano". Territory once inhabited by the Celtic people
The musical genre is Schrage Musik, an explosive mixture of metal. thrash and power with insertions of other genres ranging from newwave, to punk, folk and ambient.
The themes of the lyrics speak of esotericism, history, legends, magic with a particular interest in the territories where the band lives: Friuli, extended to the ancient borders of Austrian Carinthia and Slovenja.
Plays Today: 31
Total Plays: 571,089
Profile Views: 663,876