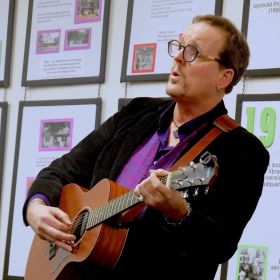 California born, Copenhagen based songwriter Brett Perkins songs and vocals appear on over twenty commercial releases, including a number one co-written single with Sony Denmark artist Mads Langer, numerous film and TV placements (MTV's Road Rules, NBC Movie Of The Week, 'Anna Pihl', etc), Awards (1st Prize, Great American Song Contest & Australian Song Contest, etc.) and widespread international ... read more
Heritage Square

United States, Arizona, Flagstaff, 22 E Aspen Ave, 86001

The first annual Flagstaff Songwriters Festival will feature regional, national and international singer/songwriters in multiple genres, with free concerts in Heritage Square, retail stores and other alternative venues in the downtown region, with donations accepted in support of the Flagstaff Family Food Center. Confirmed artists include Kerina Wachara, The Carbonics, Hunter E. Redday, Sunny Gable, Cameron James, Jacqui Foreman, Sugar City, Ellie Fern, Jonathan Cady, Tara Lynnette, Pablo Lovetrain, Avtar Khalsa, Brad Colerick, Jen Hajj, Dan Rush, Kurt Braun, Brett Perkins.