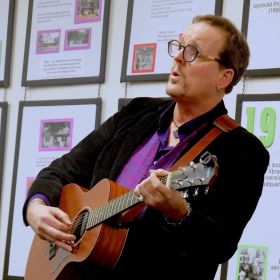 California born, Copenhagen based songwriter Brett Perkins songs and vocals appear on over twenty commercial releases, including a number one co-written single with Sony Denmark artist Mads Langer, numerous film and TV placements (MTV's Road Rules, NBC Movie Of The Week, 'Anna Pihl', etc), Awards (1st Prize, Great American Song Contest & Australian Song Contest, etc.) and widespread international ... read more
Coffee Gallery Backstage

United States, California, Altadena, 2029 N. Lake Ave., 91001

Solo acoustic concert shared with The Brothers Landau, a Los Angeles based cello-guitar duo that began very simply in 2006 as a musical project of classically trained brothers Daniel and David Landau for a family friend's Labor Day party. Inspired by the success of the evening, the Brothers embarked on a songwriting odyssey that four years later led to the release of their first album, Parallax, in mid-2010, with a second album in the works.